Rebecca Bluestone was born in 1953 on Panther Creek Ranch in Oklahoma.  Her mother, a barrel racer, and father, a calf roper, lived and worked on ranches in Northeastern Oklahoma raising three children in the process.  Rebecca's earliest memories, starting around 5 years old, are being out alone on her horse feeling no separation between herself and the natural world around her.  This early connection with nature and the vistas of wide open space inform her artwork to this day.
Rebecca had an early interest in art and making things with her hands, but was told that she had no artistic talent because of her inability to draw realistic figures. She abandoned her dream of being an artist and never took a studio art class throughout her college career.
She graduated from Oklahoma State University in 1976 with a BA in Humanities. Leaving college with little sense of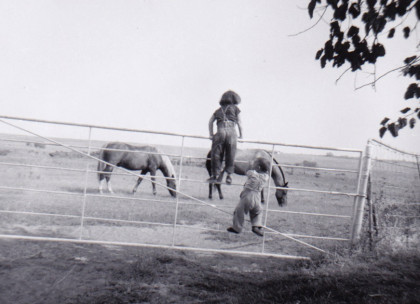 direction, she eventually moved to mid-coast Maine working odd jobs to support herself. She bought a couple of acres in Hope, Maine and built her own cabin, living without running water or electricity and returning to that early connection she had with nature.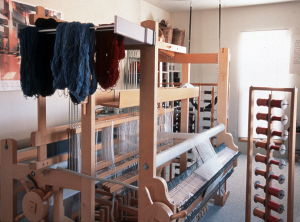 After struggling to find her place in the world, Rebecca came to weaving in 1984 at the age of 31. She sat down at a loom and felt like she had come home. She quickly realized that this state of total engagement is what allows creativity to naturally flow. She has been weaving ever since.
In 1986 Rebecca moved to Santa Fe, NM to study Navajo weaving with renowned Hopi artist Ramona Sakiestewa. During that time she met her late husband, classical guitarist Robert Bluestone, and became Ramona's apprentice. She showed her first body of work in 1988 at Weaving Southwest in Taos, NM. Over the next 13 years she became a successful tapestry artist achieving international recognition for her art, speaking on creativity and having her work acquired by prominent collections such as the Chicago Art Institute and the private collection of Robert Redford.
In 2001 her work life came to an abrupt halt when, at the age of 48, she was diagnosed with ovarian cancer. Lying in the hospital after major surgery, she realized the superficiality of some of her previous goals and then decided to use her artwork as a way to communicate about the things that are truly important in life. During 6 months of chemotherapy she learned how the power of creativity is essential. She realized we can't always control what happens to us, but we always have a choice in how we respond and then we are able to take a challenge and turn it to our advantage. The choice we make in each moment is where creativity happens; where we see possibility when it seems there is no possibility. For the next several years Rebecca and her husband traveled the country bringing music and visual art into people's lives and speaking about the relationship between creativity and healing.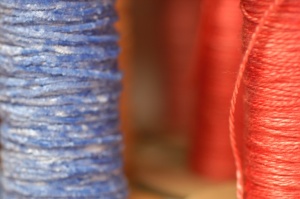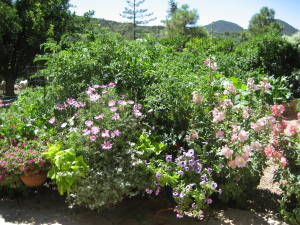 Rebecca used Iyengar Yoga and Pilates to recover from the effects of surgery and chemotherapy on her body, mind and spirit. After the death of her husband in 2012, she decided to return to her life-long love of teaching and interest in health and completed the 450 hour Pilates certification program.
Combining her art, yoga and Pilates in her eastside studio in the historic Santa Fe Canyon, Rebecca finds deep satisfaction in the rhythm of weaving, teaching and spending time in her garden. She is grateful for the many gifts life has to offer. She lives joyfully with her two Australian Labradoodles, Mickey and Luke.